Telecom SudParis, established in 1979 as the Institut national des télécommunications (INT), is a Grande École which belongs to the Institut Mines-Télécom (IMT) Group. As a "Grande Ecole", it trains tomorrow's elite engineers and managers in the field of digital sciences and technology.
A DIVERSIFIED AND SOUGHT-AFTER TRAINING OFFER
A pioneer in project-based pedagogy and the development of entrepreneurial spirit, Telecom SudParis forms:
General engineers,
Scientific executives,
PhD programs.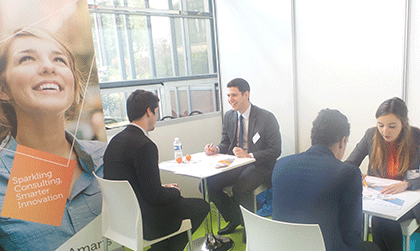 Telecom SudParis offers a wide range of training opportunities through its programs and partnerships in fields ranging from applied mathematics to networks and information systems, including electronics, image processing and multimedia.
Thanks to our diversified training-program and 40 years of experience in the field, our school has established a strong and justified image of excellence among recruiters in industry. Our graduate engineers are sought after by companies in all sectors of activity and particularly in digital science and technology sector.
Our strong ties with many industrial partners have largely contributed to this reputation. Collaboration with companies enables us to stay up-to-date with the needs and expectations of the business world which are taken into consideration when reforming our courses, curriculum and the educational process.